Tierra del Fuego: A Backpacker's Guide to Chile & Argentina
When Magellan passed the southernmost tip of South America on his voyage in the 16th century, the only thing he could see along the flat landscape were the occasional flares of light. He was looking at the fires of the aborigines, burning through the night to keep them warm on this frozen island.
He named the place "Tierra del Fuego," meaning "Land of Fire," and centuries later it looks much the same as it did back then- flat and empty.
In the late 1800's, the gold rush drew in immigrants and the landscape experienced some disruption as eager prospectors began mining. During this time, the population of aborigines decreased dramatically. After the rush died down, most of the miners returned to their homelands, leaving the land and its people poorer than before.
Now, the main people drawn to Tierra del Fuego are sheep farmers, extreme adventurers, and tourists that covet the claim of being in the southernmost place in the world before Antarctica.
If you fit into one of these categories (or even if you don't), here is our guide to the Land of Fire.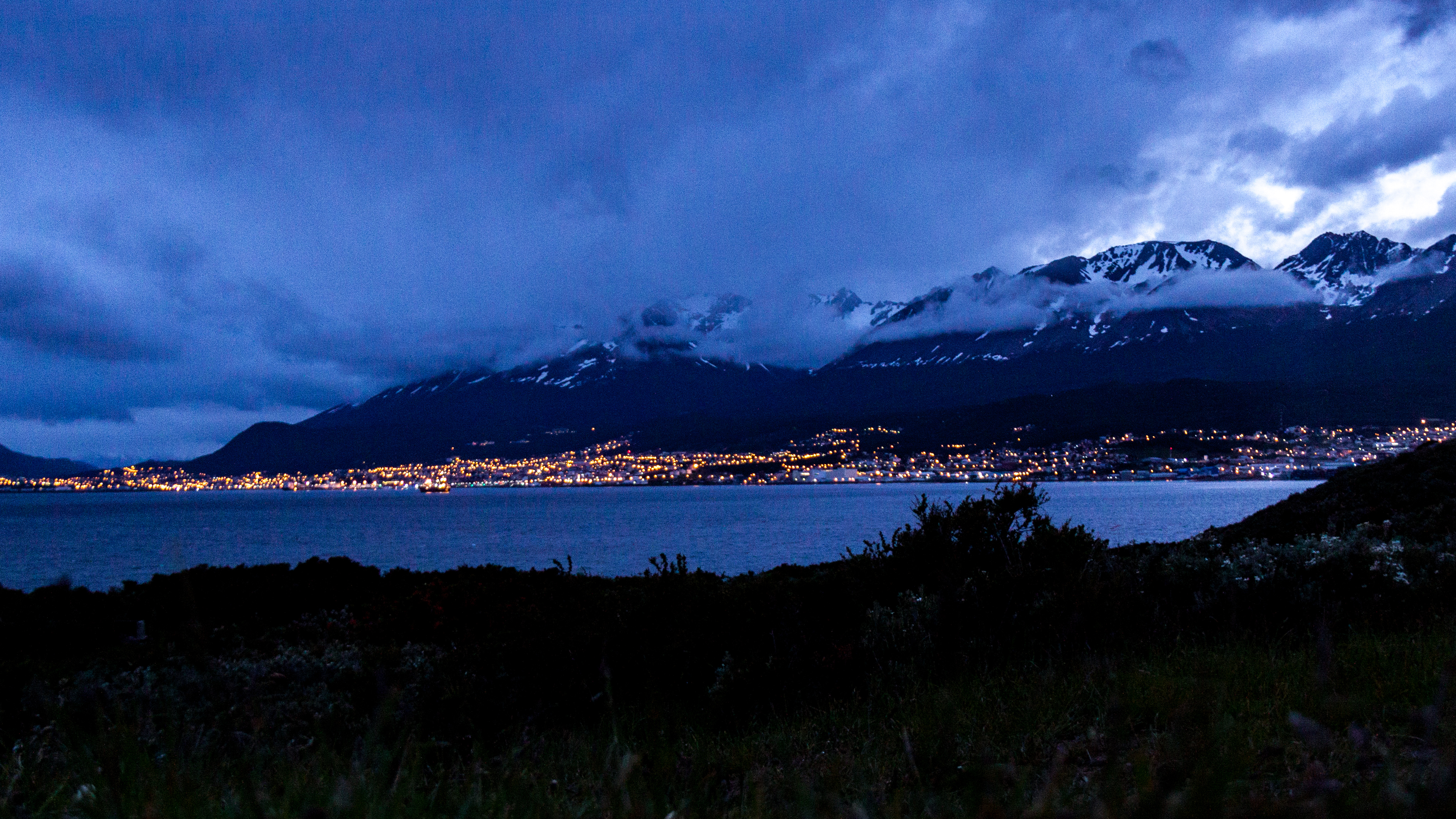 Tierra del Fuego: What To Do
Although much of Tierra del Fuego is flat and relatively uninteresting, there are several major draws which may be well worth the trip.
Ushuaia 
The first is Ushuaia, the southernmost city in the world. As you get closer to this area, forests and snowy mountains begin to reappear on the road, and you really start to feel like you're in Patagonia again. The city itself offers several attractions. Apart from being the departing point of many Antarctica cruises, you can also take tours to see sea lions and penguins, as well as hike in Tierra del Fuego National Park. Although not one of the most spectacular national parks in Patagonia, it's unique in that it's home to colonies of beavers which were introduced into the area. At the park, you can really see how their introduction has affected the ecosystem.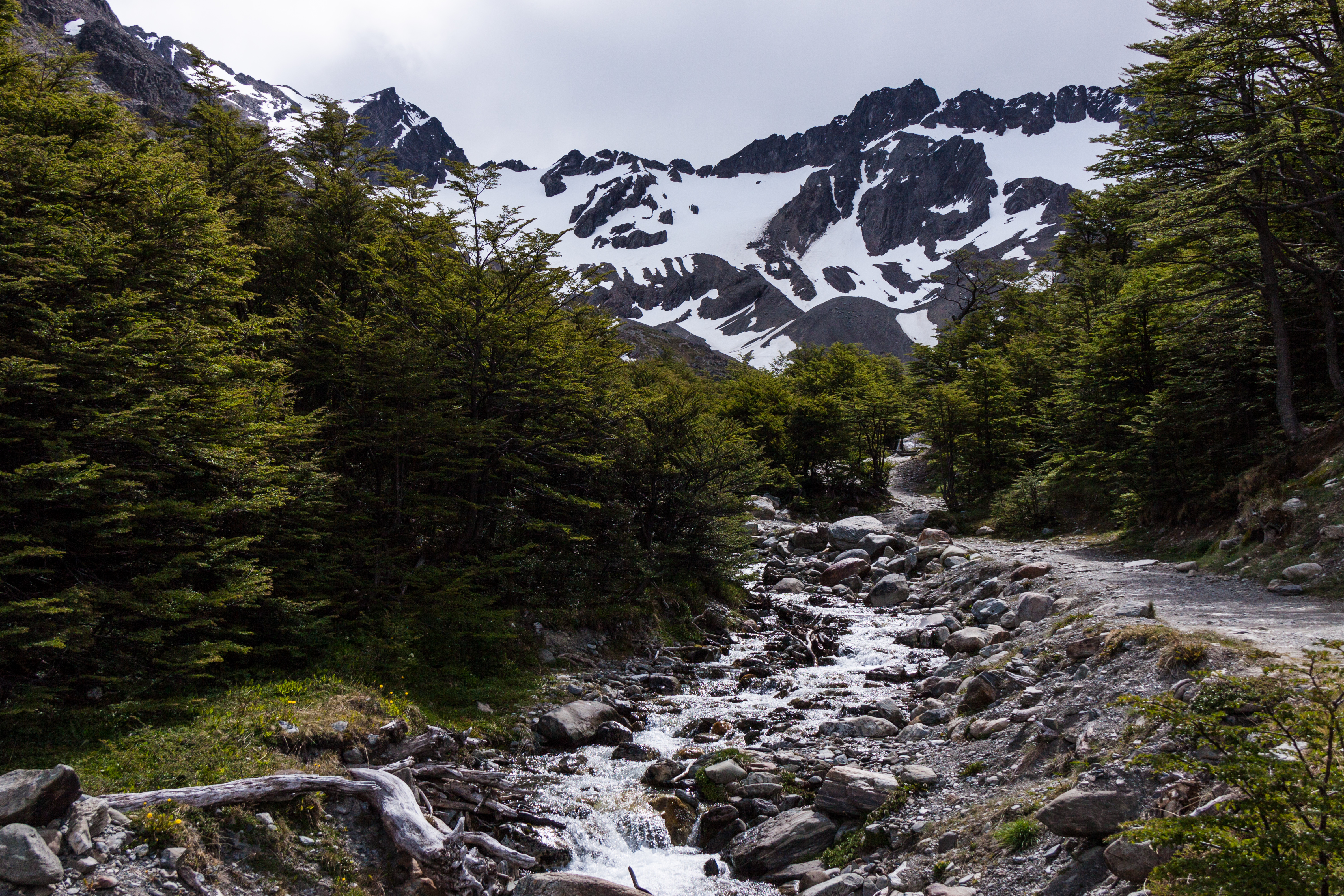 Parque Pingüino Rey
If you really want to see penguins but don't feel like paying for an organized tour in Ushuaia, there is an amazing colony of king penguins on the Chilean side of Tierra del Fuego in Bahia Inútil near Porvenir. The small reserve, called Parque Pingüino Rey, is home to about 100 king penguins, the only colony outside of Antarctica. This was undoubtedly our highlight in Tierra del Fuego.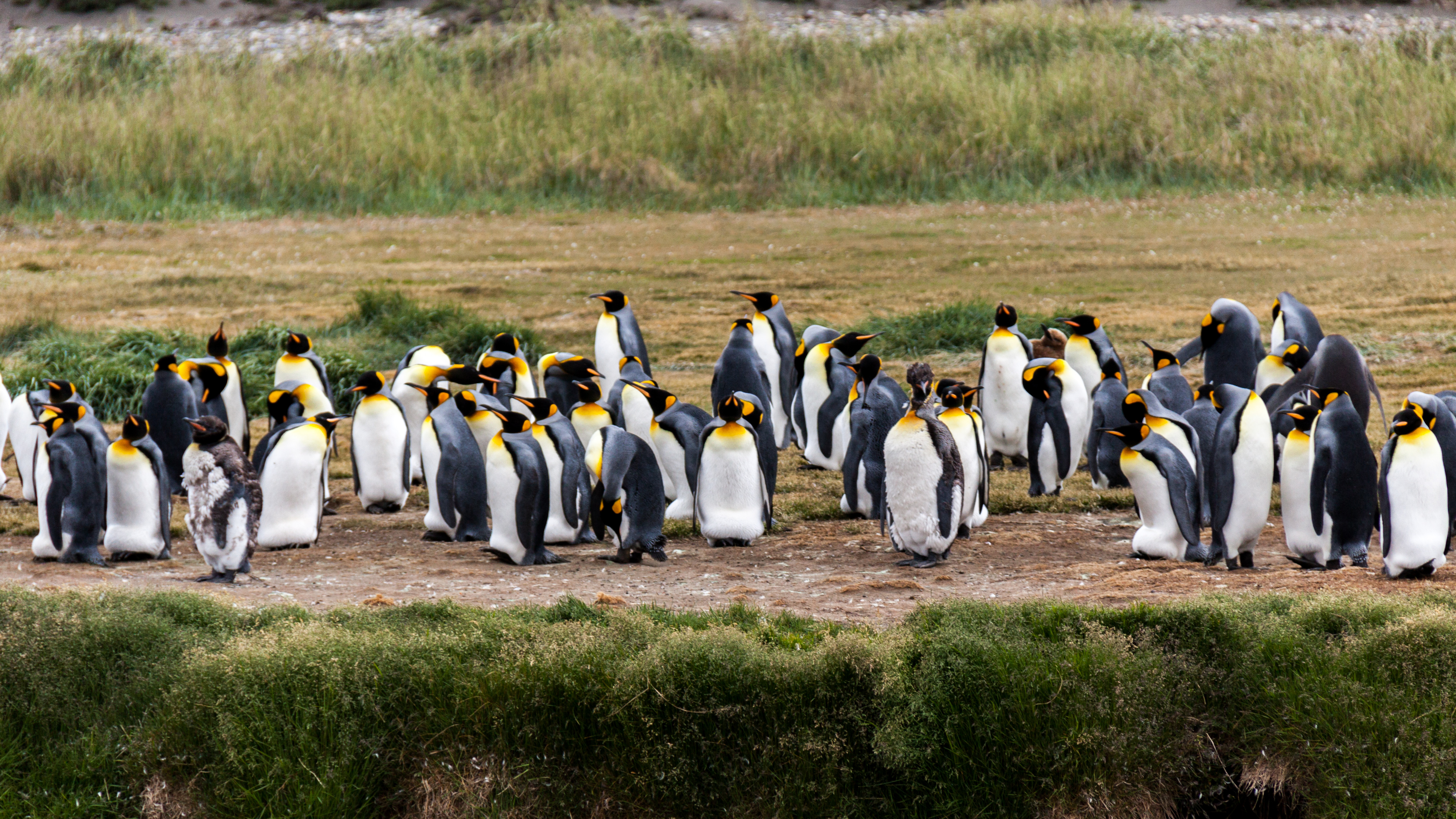 Dientes de Navarino 
Across the Beagle Channel from Ushuaia there is a small port town called Puerto Williams. From there, adventurers can embark on the multi-day Dientes de Navarino trek. The circuit takes 4-5 days and is for highly experienced trekkers only, but the reward is beautiful mountain scenery and great views over Cape Horn and the islands of Tierra del Fuego.
Getting to Tierra del Fuego
From Chile
From Punta Arenas in Chile you have the choice of 2 ferries: one goes to the small town of Porvenir in Tierra del Fuego (46,000 CLP for 2 people and a car) and the other to Puerto Williams (the cheapest ticket is 108,000 CLP/person).
We opted for the ferry to Porvenir and then drove across Tierra del Fuego all the way to Ushuaia.
If you take the ferry to Puerto Williams, the crossing is supposed to be very beautiful, but remember that you will then have to take another- quite expensive- ferry to Ushuaia to get to "mainland" Tierra del Fuego.
To view the exact prices and dates of ferries, you can go to the TABSA site, Chile's official ferry transport.
From Argentina
Getting to Tierra del Fuego from Argentina is a slight pain because of all the border crossings: you need to cross to Chile and then back to Argentina if you're heading to Ushuaia.
From Rio Gallegos in Argentina head south on Ruta 3 until you get to the Punta Delgada border crossing. After crossing the border, continue along Ruta 255, turning left onto Ruta 257, until you reach the Bahia Azul ferry crossing to Tierra del Fuego.
Once on the Tierra del Fuego side, you can either stay in Chile, see the king penguins, and continue to Punta Arenas, or cross the border again at San Sebastian and go all the way down to Ushuaia.
Where to Stay in Tierra del Fuego
If you're with a motorhome or camper van, you can choose from plenty of spots to overnight on the iOverlander app. Otherwise, the main areas of civilization in which you'll be able to find hostels and hotels are Porvenir, Rio Grande, and Ushuaia. Keep this in mind when planning your itinerary, as you'll need to be able to make it from one sleeping area to the next within the day's drive.
Worth it? If you're already in Patagonia and have some time, Tierra del Fuego is definitely a different and interesting place to visit. However, we personally would not do a trip from far away just to Tierra del Fuego.
What to bring: camera, warm clothes, hiking gear if you're planning on hiking.
– Iris & Roi
Do you guys have questions or anything interesting to share about Tierra del Fuego? Let us know in the comments!
---
---