Iceland in a Day: The Golden Circle
Flying is expensive. Luckily, budget airlines have started to pop up all over the place, making traveling across the Atlantic feasible for us broke backpackers. Recently, we flew to the US on WOW air, which gave us the option of either a 2-hour or 20-hour layover in Iceland. Of course, we opted for the longer one.
Can you see Iceland in a day? Obviously not all of it, but you can definitely get a few cool highlights in the Reykjavik vicinity. If you rent a car as we did, you can easily drive around the Golden Circle in a day.
The Golden Circle
The Golden Circle is a popular circular route in southern Iceland, totaling about 300 kilometers. It starts in Reykjavík and loops around several notable tourist sights. If you only have a day-long layover, this route makes for the perfect itinerary.
We rented our car straight from Keflavik Airport when we landed in the morning, so that's where we started our trip. Here was our approximate route:
Blue Lagoon
Probably the most well-known tourist attraction in Iceland, the Blue Lagoon is only a 20-minute drive from Keflavik Airport. The makes for the perfect first or last stop on the way to/from the airport. Just remember to book a spot online in advance, or you (like us) won't be able to get in.
Gullfoss Falls
From the Blue Lagoon to the next prominent attraction, the Gullfoss waterfall, it's about a 2-hour drive. On the way there are a few geysers you can stop at. Actually, as you drive you'll periodically see steam rising out of the ground in random places; it's a bit unsettling but very cool at the same time.
The waterfall itself is beautiful, despite the horde of tourists. If you've been to Iguazu you won't necessarily be too impressed by its size, but the ever-present rainbow makes it unique.
When you get here, there are two parking lots you can use. One is at the top of the falls and one is slightly lower down. Both are free.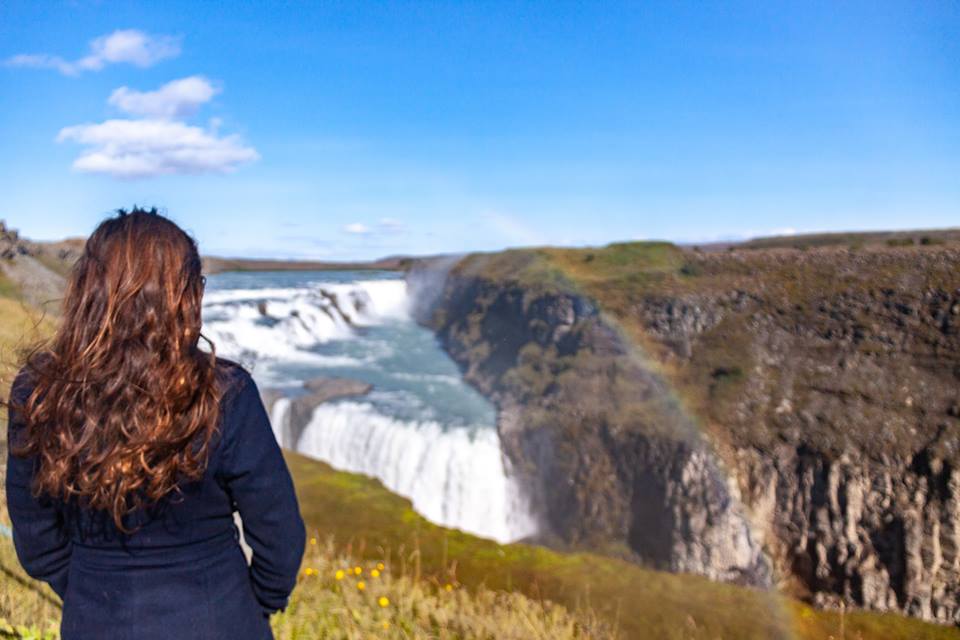 Thingvellir National Park
Game of Thrones fans, this is where you freak out. Thingvellir National Park is famous for two things. The first is for being the place where you can "stand on two continents"- there is a rift valley in the park that lies directly atop the two tectonic plates that mark the Mid-Atlantic Ridge. It is this rift that made the place famous for the second reason: GOT filmed several scenes here.
Apart from getting your fan-girl/boy on, this place is worth the visit because of its unique geography and natural beauty.
The drive from Gullfoss is about an hour, and there is a paid parking lot at the National Park entrance.
Reykjavik
It will only take you another 45 minutes to complete the Golden Circle and arrive in Reykjavik, the capital. Over a third of Iceland's small population (300,000 total) live here.
The city itself is less of a city and more of a quaint town- you won't see any skyscrapers here. There is, however, an interesting church and picturesque streets to explore.
Tips for the Road
When you're renting a car, make sure to clarify which roads you can and cannot drive on. There are restrictions for non-4×4 cars on some highland roads that aren't fully paved.
Iceland is without a doubt the most expensive place I've ever been. Be aware of the prices and make sure to do the conversions correctly!
Bring warm clothes at all times of the year.
Worth it? If you get the chance to have a long layover, then absolutely go for it. Would I come here on a longer trip? Only if I had a good amount of cash to spend.
What to bring: Warm clothing, camera, MONEY.
– Iris & Roi
Questions about spending the day in Iceland? Let us know in the comments and we'll get back to you.
---
---